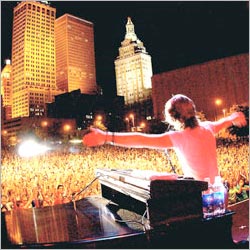 Add caption
Month : May
Place : Tulsa, U.S.A
Famous For : Arts & Music Festival
Attractions : Visual Arts, Dances, Music Competitions, Kids Zone.

Tulsa Mayfest is amongst the most awaited celebrations in United States of America. It's basically an outdoor arts and music festival held every year at Tulsa. The festival aims to solidify the understanding and appreciation of arts and humanities among various artists and art lovers. The most notifying of Tulsa Mayfest is that it's a family-oriented event and has offerings in store for everyone. The next edition of Tulsa Mayfest will be held from May 19 to May 22, 2011.

Major Attractions
The Tulsa Mayfest traces its origin back in the year 1972, when the Junior League of Tulsa were working out a way to celebrate their upcoming 50th Anniversary. They came up with the idea of an arts festival called Jubilee "73 which was a common celebration of City of Tulsa"s 75th Anniversary, the Junior League of Tulsa"s 50th Anniversary, and the Tulsa Philharmonic Society"s 25th Anniversary. In the very next year, It was only in the year 1978, that the festival got its current name of "Mayfest". The celebrations grew manifolds with expansion of visual and performing arts staging areas. Artists and craftsmen to display their works, which were to be judged by an appointed jury. Other attractions of the festival in recent times include The international music competition, multi-disciplined arts from dance, kids zone, music and visual arts.