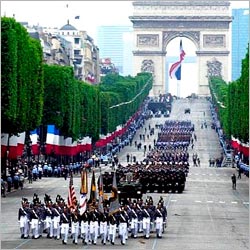 Add caption
Month : July
Place : France
Famous For : Traditional Festival (National Festival)
Attractions : Parades featuring troops from France and allied countries, Interview of President, Garden Party.

Bastille Day is one of the most important events in France. It's actually the French national holiday, which is celebrated every year on 14 July. Popularly called by the name of le quatorze juillet (the fourteenth of July), the Bastille Day's formal name in France is La Fete Nationale (The National Celebration). The celebrations kick off on the morning of 14 July itself in the presence of President of the Republic at the Champs-Elysees avenue in Paris.

Major Attractions
The Bastille Day festival traces its origin way back in the year 1789 when the republic of France was on a rising. In 1789, a severe storming of the Bastille fortress-prison took place, which was seen as a symbol of the uprising of the modern nation. In the next year (1790), a festival called Fete de la Federation was observed to mark one year anniversary of the incident. Since then, Bastille Day is celebrated every year to commemorates the 1790 Fete de la Federation. The celebrations start with a parade featuring cadets from the Ecole Polytechnique, Saint-Cyr, École Navale etc., other infantry troops and then motorized troops. Alongside the marching troops, aviation of the Patrouille de France flies above the parade ground. Nowadays, units from France's allies countries are also invited to the parade. The parade is followed by an interview of the president with members of the press, discussing the situation of the country, recent events and projects for the future. But current president of France abolished the practice. After the interview, the President also holds a garden party at the Palais de IElysee.