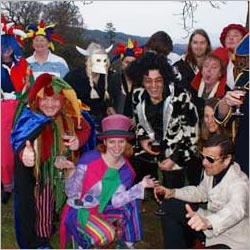 Add caption
Month : January
Place : Europe
Famous For : Traditional Competition
Attractions : Youngsters playing roles of a mock pope, archbishop, bishop, or abbot to reign as Lord of Misrule, Dances, Songs

The Feast of Fools is a much awaited festival in several countries of Europe. It's observed every year on New Year's Day on January 1. The festival is celebrated with a central idea to initiate a brief social revolution, in which power, dignity and impunity is briefly conferred on those in a subordinate position. In accordance to this principle, the Feast of fools is considered as a a successor to the Roman Saturnalia.

Major Attractions
The origin of this festival dates back to medieval times which was celebrated by the clergy and laity from the fifth century until the sixteenth century in several countries of Europe. The Feast of Fools is also popular by the name of festum fatuorum, festum stultorum, festum hypodiaconorum, or fete des fous. Main countries in which this festival is observed are Spain, Germany, England, and Scotland, however, the principle celebrations are held in France. During the celebrations in earlier times, young people, who played the chief parts, chose from among their own number a mock pope, archbishop, bishop, or abbot to reign as Lord of Misrule. Participants would then "consecrate" him with many ridiculous ceremonies in the chief church of the place, giving names such as Archbishop of Dolts, Abbot of Unreason, Boy Bishop, or Pope of Fools. The ceremonies often mocked the performance of the highest offices of the church, while other persons, dressed in different kinds of masks and disguises, engaged in songs and dances and practiced all manner of revelry within the church building.