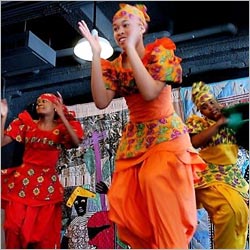 Add caption
Month : August
Place : U.S.A
Famous For : Cultural Festival
Attractions : Kinara (Candle holders lit by participants), Celebration of African culture and heritage.

Kwanzaa is one of the most important festivals in United States of America. The mere extent of this festival's vitality is that it drives the image of the Americans on world stage. It's actually a celebration honoring universal African heritage and culture over seven long days. The week long festivity is observed every year from December 26 to January 1. The main attraction of Kwanzaa festival is marked by participants lighting a kinara (candle holder).

Major Attractions
The Kwanzaa festival was started by Ron Karenga and was first celebrated from December 26, 1966 to January 1, 1967. The festival traces its roots in the black nationalist movement of the 1960s. It was started to act as a reuniting medium to help African Americans reconnect with their African cultural and historical heritage. During the early years of Kwanzaa, it was aimed to be an alternative to Christmas. However, after a good passage of time, Kwanzaa gained mainstream popularity and finally in 1997 started the current Kwanzaa. It's termed as "A Celebration of Family, Community, and Culture." Nowadyas, many Christian African Americans celebrate Kwanzaa do so in addition to observing Christmas. Recently, in 2009, Maya Angelou narrated the award-winning documentary - The Black Candle, the first film about Kwanzaa.