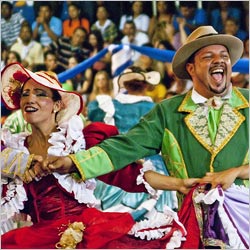 Add caption
Month : Brazil Winter
Place : Brazil
Famous For : Traditional Festival
Attractions : Dressing up like a farmer, Dancing, Drinking, Fireworks.

Festa Junina is the Brazilian form of the European festival of Saint John. The festival takes on a whole new look and life in Brazil where it's transformed into a kind of mini carnival with a rural theme. The main attractions of this festival in Brazil include dressing up like a farmer, dancing, drinking, firework displaying spectacular of exuberance of Brazil.

Major Attractions
The festival of Festa Junina takes place in the beginning of the Brazilian winter, consequently during the European summer. The feast is mainly celebrated on the eves of the Catholic solemnities of Saint Anthony, Saint John the Baptist, and Saint Peter. The rural themes of rain and harvest have become central to the celebrations, involve dressing up like a farmer - preferably in gingham for the girls and short trousers with braces for the men. Once the outfits are donned the celebrations turn to country style dancing. The celebrations usually take place in a huge tent made of raw material (with a thatched roof) that was reserved for special parties in old rural areas. Men dress up as farm boys with large straw hats and women wear pigtails, freckles, painted gap teeth and red-checkered dresses, all in a loving tribute to the origins of Brazilian country music. Nowadays, Sao Joao festivities are extremely popular in all urban areas and among all social classes. In the Northeast, they are as popular as Carnival. Two northeastern towns in particular have competed with each other for the title of "Biggest Sao Jao Festival in the World", namely Caruaru (in the state of Pernambuco), and Campina Grande,in Para"ba state. In fact, Caruaru features in the Guinness Book of World Records for holding the biggest outdoor country festival.