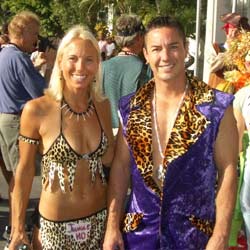 Add caption
Month : October
Place : Key West (Miami), U.S.A
Famous For : Fetish Carnival
Attractions : Fetish Party, Headress Ball, Danceapalooza, Celebrity look-a-like competition, Wet T-Shirt Competition, Toga parties.
The Fantasy Fest is a much awaited festivity in U.S.A. It's usually held every year during the third week in October month at Key West (Miami), Florida U.S.A. The Key West Fantasy Fest is a ten day long event. It involves various highlighted events like parties, parades and other exciting events providing it a grand stature.

Major Attractions
The Fetish Fest came into existence when on Halloween day 1978, Joe Lisky notice that no-one was on the streets of Key West. The town was deserted. He felt a carnaval would boost the local economy and the rest is a history of fetish, sexuality and good times. The top attractions of Key West Fantasy Fest includes a good Dungeons & Dragons fetish party, the annual Headress Ball, Danceapalooza, celebrity look-a-like competition, wet t-shirt competition and toga parties. Besides this, there are lots of pool parties, rooftop parties as well as drive-by pick-up truck parties & ask around everyone's welcoming and open. Another not to be missed event is the Masquerade March through the streets on the second Friday and the Captain Morgan's street parade on the second Saturday of the parade. Over 80,000 people participate in this walking fetish party and anything goes.